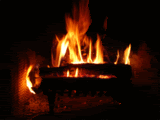 "Can you feel the heat?"
If you're feeling the heat sitting next to your computer, a look at the Summerhill Blog statistics for the past few days, will tell you why. In the first eleven days of July, we received more than 15,000 unique visits, more than 36,000 page views and 141,180 robot referrals. Eleven days, one little farm, 12kms from the dustiest little dorp in the Midlands, and now you know the power of the internet.
And that was before our new Sires Film went up (click here to watch on the Blog), by all accounts, even better than last year's, the rights for which were acquired by Sky Channel and TVN in Australia. You can also log onto our YouTube channel right now if you have the chance - it's a tribute to the young team at iKind Media, our blog master Michael Nefdt and his brother, Matthew and their cohorts.